Membuat Traffic website automation dengan Python Selenium pada windows
Traffic pada sebuah website sangat berguna untuk meningkatkan SEO atau meningkatkan peringkat pencarian kamu pada google search engine, maka dari itu dalam artikel ini kita akan membuat tools untuk membantu kita meningkatkan traffic pada website yang ingin kita tingkatkan traffic nya.
Disclaimer : Script ini dibuat hanya untuk pembelajaran, jika disalahgunakan atau menyebabkan kerugian terhadap pembaca seperti ( banned google adsense ,dll ) maka itu diluar tanggung jawab penulis.
Script Lengkap
import time
import numpy as np
from selenium import webdriver

# for x in range(5):
key =  [
    'How to install Laravel 5 Framework on Windows ngodeid.com',
    'Getting Started with Python ngodeid.com',
    'How to Install Packages in Python using PIP ngodeid.com',
    'How to add Python to the WINDOWS PATH ngodeid.com',
    'Getting Started with JavaScript (2021) ngodeid.com',
    'Data Types in javascript programming ngodeid.com',
    'How to install next.js in windows local ngodeid.com',
    'Strict Mode Javascript ngodeid.com',
    'Type conversion and coercion on javascript ngodeid.com',
    'Start with laravel 8 ngodeid.com',
    'Laravel Building Layout Using Themplate Inheritance ngodeid.com',
    'JavaScript Functions ngodeid.com',
    'JavaScript if else Condition ngodeid.com',
    'Javascript switch conditional statement ngodeid.com',
    'for Loop In Javascript ngodeid.com',
    'Error handling in JavaScript ngodeid.com',
    'Easy to make ui auth laravel ngodeid.com',
    'Whats New in Laravel 9 ngodeid.com',
    'Javascript hoisting ngodeid.com',
    'Cara Merubah String menjadi Integer dalam javascript ngodeid.com',
    'Memulai dengan laravel 9 ngodeid.com',
    'Cara install strapi cms pada windows local ngodeid.com',
    'Create the first project  with Django python on windows step by step ngodeid.com',
    'Create a super admin Django framework ngodeid.com',
    'Create API Resources Laravel 9 #1 ngodeid.com',
    'Showing data from database laravel rest API #2 ngodeid.com',
    'Insert Data into Database Laravel 9 rest API #3 ngodeid.com'
   
]

for x in range(6):
    if len(key) < x:
       break
    try:
        options = webdriver.ChromeOptions()

        # options.add_extension('extension_1_6_6_0.crx')
        # time.sleep(5)
        # options.add_argument('--proxy-server=%s' % proxy)
        # print(proxy)
        browser = webdriver.Chrome(options=options)
        browser.maximize_window()
        # time.sleep(5)
        arr = np.random.choice(key)
        browser.get('https://google.com/search?q='+arr+'')
        
        time.sleep(5)
        # cari button search google
        search = browser.find_element_by_xpath('/html/body/div[4]/div[2]/form/div[1]/div[1]/div[2]/div/div[2]/input')
        search.clear()
        search.send_keys(key[x])
        time.sleep(0.1)

        link_search = browser.find_element_by_xpath('/html/body/div[4]/div[2]/form/div[1]/div[1]/div[2]/button')
        link_search.click()
        time.sleep(0.2)

        link = browser.find_element_by_xpath('//*[@id="rso"]/div[1]/div/div[1]/div')
        link.click()
        time.sleep(5)

        height = browser.execute_script("return document.body.scrollHeight")
        for scrol in range(100,height,100):
            browser.execute_script(f"window.scrollTo(0,{scrol})")      
            time.sleep(0.5)

        for scroltop in range(100,height,100):
            browser.execute_script(f"window.scrollTo({scroltop},0)")      
            # time.sleep(1)
        
     
        time.sleep(20)
        browser.quit()
    except:
        print('Failed')
        # browser.quit()
else:
    print("Finally finished!")
    # browser.quit()
Mungkin untuk Sebagian dari kamu enggan untuk membaca keseluruhan maka kamu bisa langsung menjalankan script diatas.
Kebutuhan sistem
Python 3.9.10 >
Selenium web driver
Numpy
Proxy / VPN
Google chrome Version 92.0.4515.107 ( versi harus sama )
Install Python
Kamu dapat melihat artikel GETTING STARTED WITH PYTHON untuk melakukan instalasi pada windows kamu.
Download Google Chrome
Kamu dapat melakukan download google chrome disini Download
Download VPN
Kamu dapat melakukan download vpn winscribe disini Download
Install Packages Selenium
Selenium adalah packages yang dapat kita gunakan untuk menjalankan aktifitas/tugas pada Web Browser secara otomatis seperti Browsing, Testing, Scrapping, dll.
Memulai selenium
Buka terminal kamu dengan ( start + R ) ketikan cmd atau kamu bisa menekan start + Comand Prompt Kemudian ketikan :
pip install selenium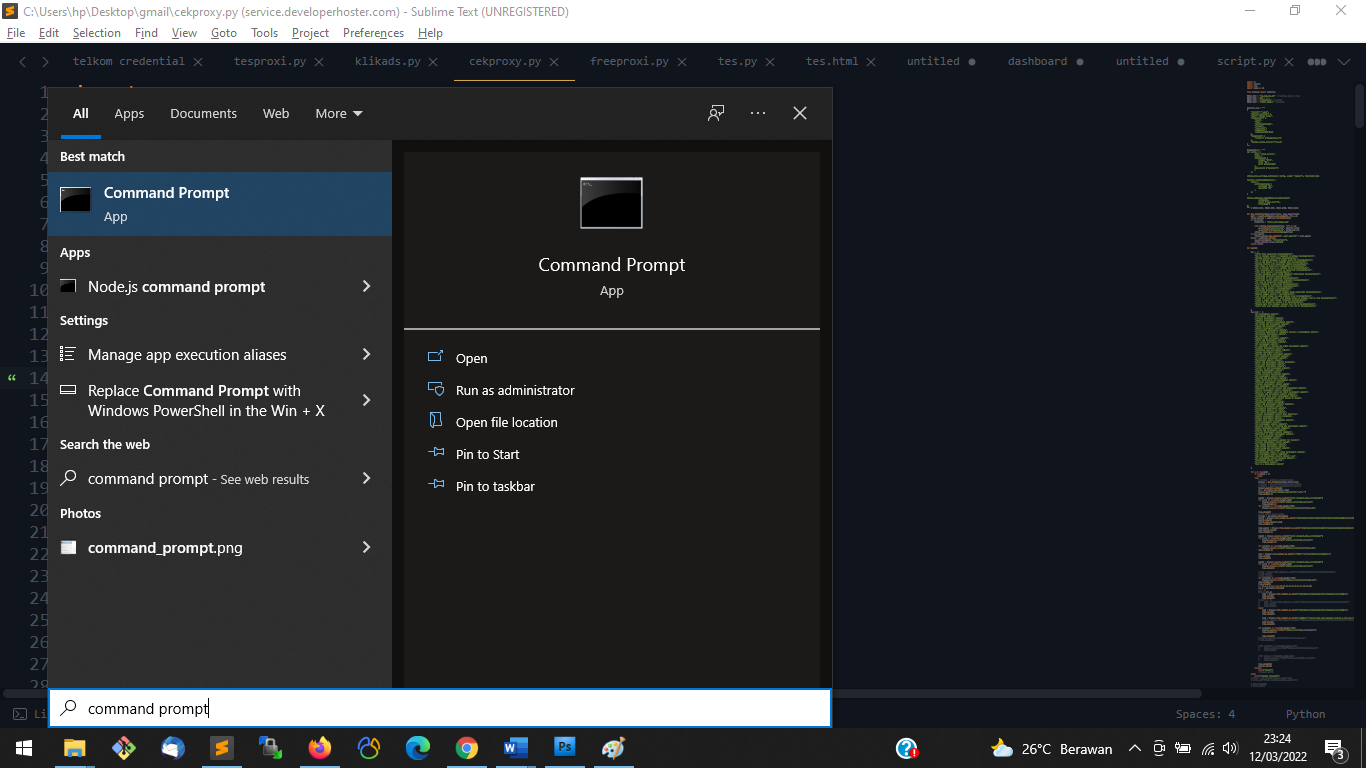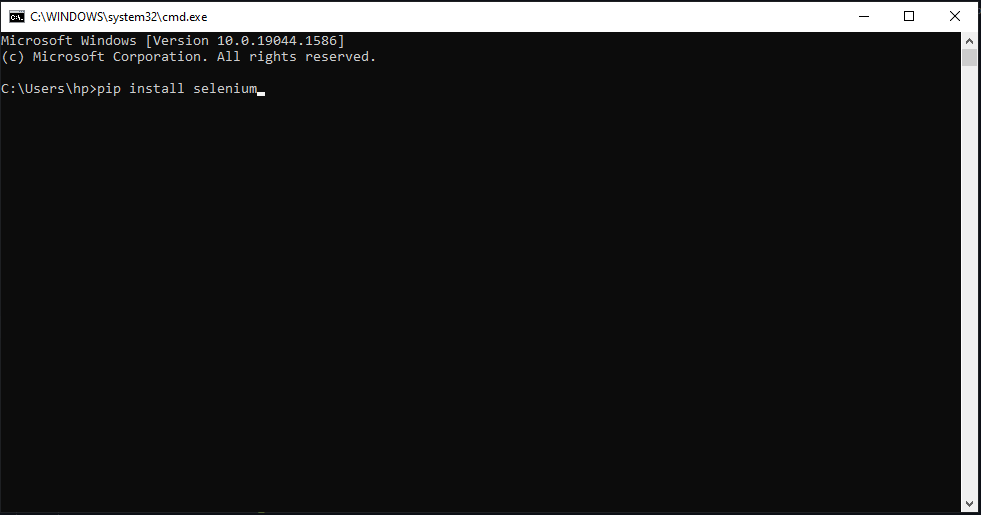 Install Packages NumPy
NumPy (Numerical Python) adalah Packages Python. NumPy dapat membentuk objek N-dimensional array. Keunggulan NumPy array yaitu konsumsi memory yang lebih kecil serta runtime yang lebih cepat.
Pada kasus ini kita akan menggunakan numpy untuk melakukan pemilihan query yang akan kita lakukan pada google search engine secara randome agar terlihat organic.
Memulai numpy
Ketikan pip install numpy
pip install numpy
Penjelasan Script
import time
import numpy as np
from selenium import webdriver
Import OS
The OS module in Python provides functions for interacting with the operating system. This module provides a portable way of using operating system-dependent functionality. The modules include many functions to interact with the file system.
Import time
Modul ini adalah modul standar Python, jadi tidak perlu menginstalnya secara eksternal. Kita menggunakan modul ini untuk mengatus seberapalama kode itu akan dijalankan dengan menggunakan function sleep().
Langkah – Langkah untuk menjalankan kode automation traffic
simpan pada folder dimana kamu ingin menyimpannya dengan nama automationtraffic.py dalam kasus ini saya menyimpannya didalam C:\Users\hp\Desktop\pythonselenium
Menjalankan kode
Pertama hidupkan terlebih dahulu VPN.
Buka terminal kamu , lalu arahkan kedalam folder dimana kamu menyimpan filenya.
cd Desktop\pythonselenium\
python automationtraffic.py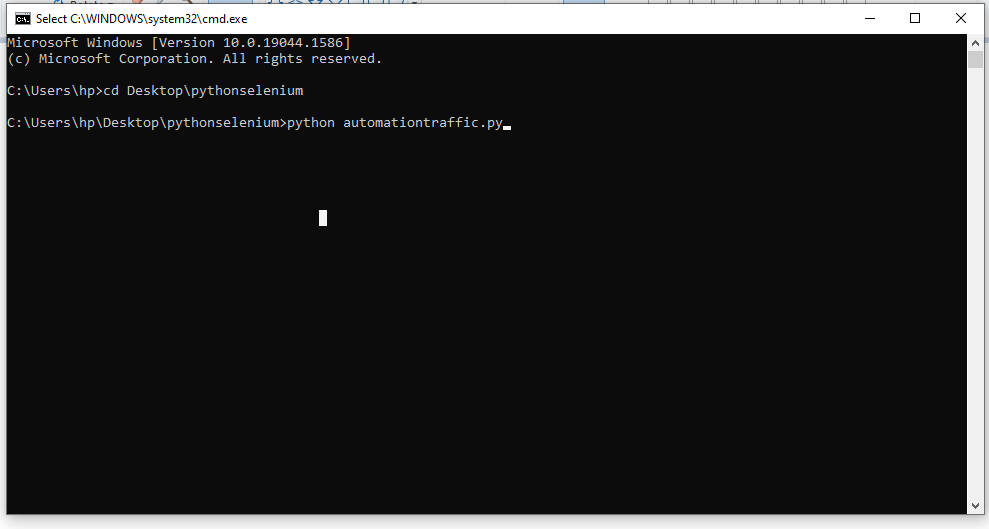 Jika berhasil maka script akan secara otomatis melakukan pencarian di google search engine dan menirukan pergerakan kita secara mandiri seperti melakukan scrolling dari atas halaman sampai kebawah, kemudian menuliskan keyword pada pencarian yang sesuai dengan website kamu dan juga melakukan klik url website kamu yang tampil pada halaman pertama google.
Jika kamu ingin menjalankan berapa kali kode ini secara terus menerus maka kamu dapat melakukan perubahan pad kode disini.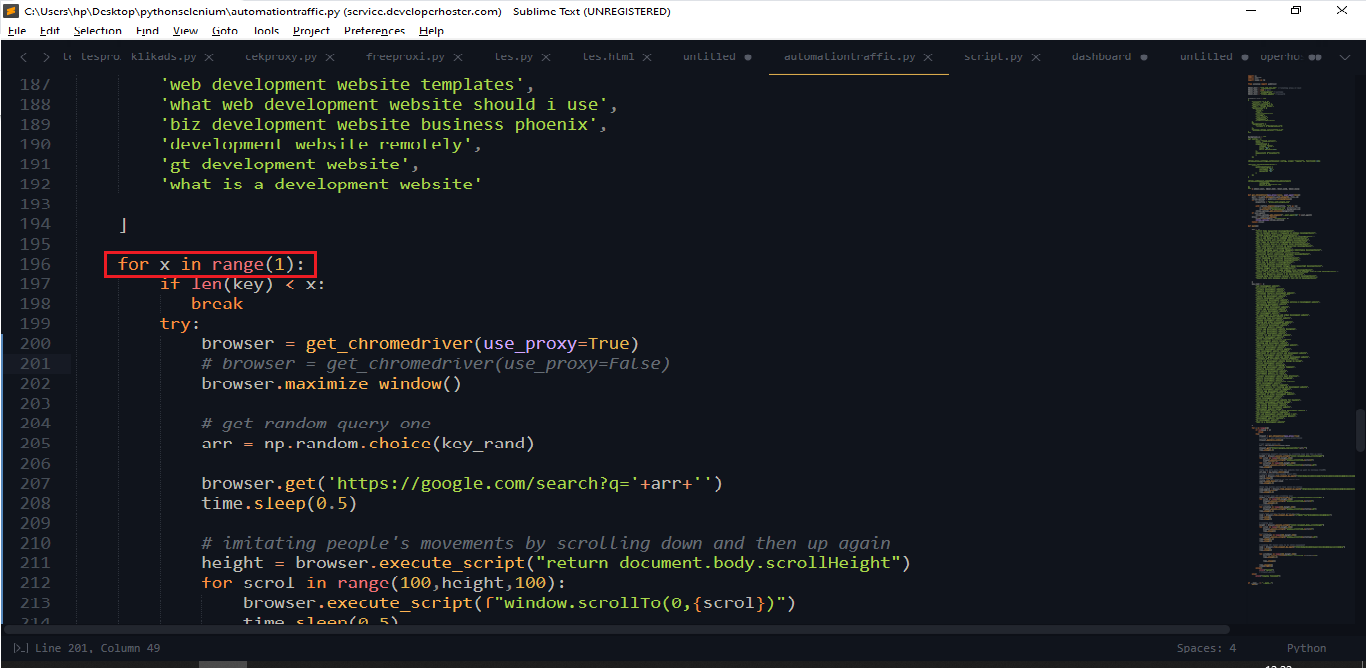 Rubah range angkanya menjadi 6 misalnya, maka kode ini akan di ulang secara terus menerus sebanyak 6 kali perulangan.
Selesai.